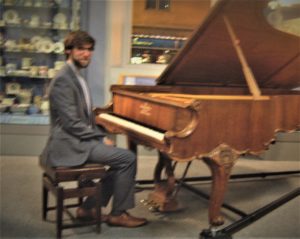 The final recital of the season was given by Joseph Houston, a brilliant young pianist based in London and Berlin. A good appreciative audience enjoyed a very interesting first half of the recital which was quite unique as it was presented with a combination of composers and it was played without the interruption of applause. This worked very well, being varied and well thought out.
The recital opened with 'La Cathedrale Engloutie' by Debussy to be followed by 'With Drums and Pipes' by Bartok. We then heard the Intermezzo in Emajor, op. 116 No.4 by Brahms and returned to Debussy for 'Ce qu'a vu le vent d'ouest' and 'Les sons et parfums tournent dans l'air du soir'. Returning to Brahms, we heard the 'Capriccio in G minor, Op.116 No.3' then Bartok's 'The Night's Music' and 'The Chase' The first half of the recital ended with'Les cloches de Geneve' by Liszt and to hear this collection of such varied music, played without applause was quite refreshing.
After the interval we heard the 'Sonata op.2 no.2 by Beethoven which was given a lively performance and the evening ended with 'Ballade No. 4' by Chopin which was played with great style and power. This is Joseph Houston's second visit to the Society and he has always impressed the audience with his brilliant technique and musicianship but most notable is his subtle and clever use of pedal which is always used with great care. Altogether a good end to the season.
The Society is most grateful for the financial support given by the City of Sunderland which enables and enriches the quality of music and the arts to continue.
Lily Scott.