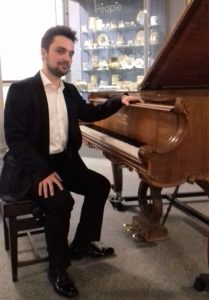 Sunderland Pianoforte Society continued its 76th season with an outstanding recital given by the Romanian pianist Cristian Sandrin who was kindly sponsored by the Countess of Munster Musical Trust. The recital was given in the Pottery Room at Sunderland Museum on Tuesday, 16th October and was well attended by an enthusiastic audience that was well rewarded with an excellent evening.
The recital started with the Variations in F minor by Haydn which were followed by the Sonata in D minor op.31 no.2 by Beethoven, both well played, with great attention to detail particularly in the first movement of the Beethoven where the pedal was used correctly as indicated by the composer. The second movement was beautifully played and the third movement was a fitting end to the first half. After the interval we heard Étude pour les Arpèges Composés No. 11 by Debussy, a difficult, rarely played work from a set of 12 piano studies. This was one of the most popular of the set and certainly one of the most difficult, again well played. We then heard the Berceuse, op.57 by Chopin and the evening ended with Kreisleriana op.16 by Schumann which was the highlight of the recital and left the audience demanding an encore. The Chopin Barcarolle was a fitting end to a really enjoyable evening which was appreciated by everyone.
Born to a family of musicians from Bucharest, Romania, Cristian Sandrin made his solo debut at the age of 13. After graduating from the Dinu Lipatti Art College he moved to London where he worked with many famous pianists. His solo debut in London was at the Wigmore Hall in September 2017.
The Society is grateful for the financial help given by the Countess of Munster Musical Trust by making it possible for us to present such a brilliant young pianist who is assured of a successful career.
Lily Scott