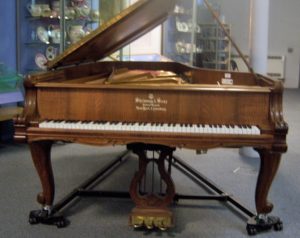 The 76th season ended with a concert by members and friends of the society, organised by our chairman, Kevin Walsh.  A good audience at the Sunderland Museum and Winter Gardens enjoyed a varied programme, with interval refreshments.  The pianists and the pieces they played were:
Alan Bowers
Schubert: Impromptu in A flat (op 90 no 4)
Alan England
Debussy: The Girl with the Flaxen Hair
Mark Tanner: Fishing Off Logan Rock
James Barker
Bach: Gigue from French Suite no 2
Chopin: Mazurka (op 59 no 2)
Sarah Robinson
Chopin: Preludes nos 1,2,5,6,7,8,9,10 (op 28)
Kevin Walsh
Chopin: Nocturne in G (op 37 no 2)
Ben Richards
Alexander Ilyinski: Étude (op 31 no 1)
INTERVAL
Fabio Raciti
Chopin: Nocturne in C sharp minor (op posth.)
.             Polonaise in A flat (op 53)
Peter Hayes
Scott Joplin: The Ragtime Dance
.                     Elite Syncopations
Graeme Humphries
Brahms: Intermezzo (op 118 no 2)
John Welch
A selection of music from The Threepenny Opera by Bertold Brecht, Kurt Weill and Elisabeth Hauptmann: Overture – Mack the Knife – Pirate Jenny – Tango Ballade – What Keeps Mankind Alive -The Flick Knife Song (Mack Reprise)
David MacRae
Granados: Spanish Dance no 5 "Andalusia"
Liszt: Hungarian Rhapsody no 2
Thanks to all the pianists for their contributions to what was a very pleasant and successful evening.