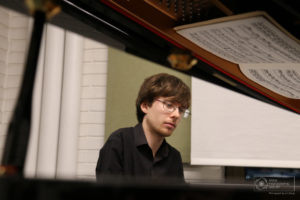 Our next recital will be on Tuesday 9 November 2021 at 7.15 pm in the Sunderland Museum and Winter Gardens.  The pianist is Dominic Degavino who will be playing:
Bach:                English Suite no.1 in A major   BWV 806
Chopin:            Ballade no.1 in G minor  (Op.23)
Liszt:                 Années de Pélèrinage  Book 1 (Suisse)
Non-members welcome. Tickets at the door are £12.50.  (Free for accompanied children 16 & under; £6.00 for full time students and those on unemployment benefit).  Seating will be socially distanced.  On facemasks, the policy of the venue is that participants do not have to wear a face covering by law, however we still encourage they do.