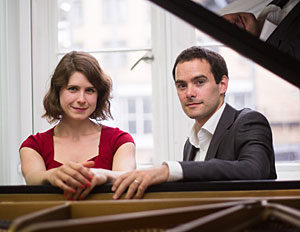 Our next recital will be on Tuesday 7 December 2021 at 7.15 pm in the Sunderland Museum and Winter Gardens.  The pianists are James Willshire and Pippa Harrison who will be playing:
Schubert:       Marches Militaires D.733
Ravel:              Ma Mère l'Oye  (Mother Goose Suite)
Ravel:              La Valse
Stravinsky:    Le Sacre du Printemps (Rite of Spring)
Non-members welcome. Tickets at the door are £12.50.  (Free for accompanied children 16 & under; £6.00 for full time students and those on unemployment benefit).  Seating will be socially distanced.  On facemasks, the policy of the venue is that participants do not have to wear a face covering by law, however we still encourage they do.