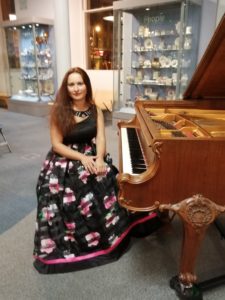 The Sunderland Pianoforte Society opened its 77th season with a recital of sheer perfection given by Dinara Klinton who played to an enthusiastic audience in Sunderland Museum on Tuesday evening.
The recital began with five works by Tchaikovsky ending with the Andante Maestoso from the Nutcracker Suite which was brilliantly played with both power and virtuosity and followed by the Beethoven Sonata in A major, op. 101. Again, well played, particularly the 2nd and 4th movements which always present a challenge both technically and artistically. After the interval we heard the Elegie and 2 preludes (op.23 nos.4 and 5) by Rachmaninoff, romantic music which was a good introduction to the Prokofiev Sonata no.6 in A major. Composed in February 1940 this sonata expresses the cruelty and tragedy of the times he was living through and Dinara Klinton's performance portrayed this perfectly. The dynamic range and technique were impressive but at the end of the evening the audience still wanted more. Dinara gave an encore of two Scarlatti sonatas in A major and B flat major.
Dinara's music education began at the age of five in her native Kharkiv, Ukraine and she graduated with highest honours from Moscow Central Music School, where she studied with Valery Piassetsky. After playing throughout the world with many orchestras, Dinara is a young pianist who is already a great success.
Lily Scott