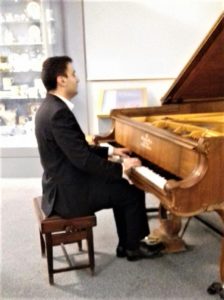 On Tuesday, 25th September Sunderland Pianoforte Society opened its 76th season with a recital given by RIYAD NICOLAS who has just returned from Budapest after winning 1st Prize in the famous LISZT PIANO COMPETITION.
This was well attended by an appreciative audience who enjoyed an evening of impressive piano music. The recital began with a thoughtful performance of the Sonata no.31 in A flat major, op.110 by Beethoven which was followed by Schumann's Fantasiestücke, op. 16, a set of 8 pieces well contrasted in style and beautifully played. After the interval Riyad Nicolas played the Chopin Sonata no. 3 in B minor, and this was a rare performance of attention to detail and perfection which at no time was ever overtaken by his brilliant technique. This was played with thought and sensitivity. We then heard Grandes Études de Paganini No. 6 by Liszt and realised why Riyad had won such a major prize as this very demanding study was played without any effort. This ended the recital but the audience wanted more and were given an encore of Dia Al Succari "Danse de Laila".
Riyad Nicolas was born in Aleppo, Syria, in 1989 and has already established himself as a highly talented and brilliant pianist who has played in many parts of the world. Besides solo performances Riyad is a keen Chamber Music player.
The next recital to be given by the SUNDERLAND PIANOFORTE SOCIETY will be Tuesday, October 16th at 7.15pm in the Pottery room at the Museum. Due to building work in the usual entrance signs will direct the audience through the cafe.
Lily Scott