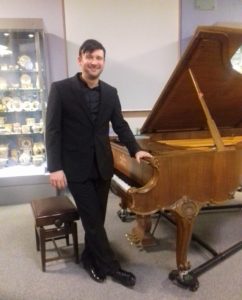 Despite icy roads and low temperatures, a good audience attended the recital at Sunderland Museum where John Paul Ekins stood in at short notice for Grace Yeo, who was indisposed. Despite a busy schedule John Paul managed to fit in a visit to Sunderland where he delighted the audience with an excellent recital.
The evening began with two Polonaises by Chopin (in C Sharp Minor and E Flat Minor, op.26), and the Romanze (in F sharp major, op.28) by Schumann. The first half of the recital ended with a very refined performance of Sonata no. 8 in C Minor, op.13 (the Pathétique) by Beethoven. After the interval (and mince pies) the evening continued with a most powerful performance of "Pictures at an Exhibition" by Mussorgsky. The encore was the Chopin Mazurka no.13 in A minor.
John Paul Ekins last played for Sunderland Pianoforte Society in February 2014, when as a young pianist he was embarking on his career, which is now very successful. He has performed as soloist at a number of prestigious venues in the UK, including London's Wigmore Hall, Royal Albert Hall, Queen Elizabeth Hall, Purcell Room and St Martin in the Fields. His concerts have taken him to all parts of the world, where he has performed concertos by Mozart, Beethoven, Schumann, Grieg and Rachmaninov.
John Paul was pleased to return to Sunderland and was very complimentary about the Society's treasured piano.