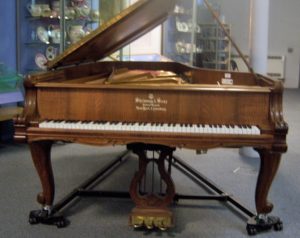 The 75th anniversary season ended in some style with a concert by members and friends of the society, organised by our chairman, Kevin Walsh.  A good audience at the Sunderland Museum and Winter Gardens enjoyed a varied programme, with interval refreshments.  The pianists and the pieces they played were:
Alan Bowers         Andante from Sonata Op. 28, by Beethoven
Ben Richards        Consolation no. 3 in D flat, by Liszt
Graeme Humphrey      Allemande from French Suite no. 5, by Bach;
.                                       Impromptu in A flat D935, by Schubert
Alan England        La Cathedral Engloutie, by Debussy
Peter Hayes          Maple Leaf Rag, and Stop Time Rag, by Joplin
Annie Ball              El Fandango de Candil from Goyescas, by Granados
Sarah Robinson    Fantasy in C Op.17 (1st movement), by Schumann
Kevin Walsh           Petrarch Sonnet no.47, by Liszt
Joe Carville             Lyric Pieces (selection), by Grieg
Alan Coxon            Reflets dans l'Eau, by Debussy
David McRae         Ballade no. 1 in G minor, by Chopin
.                               La Campanella, by Liszt/Busoni
Thanks to all the pianists for their contributions to what was a very pleasant and successful evening.