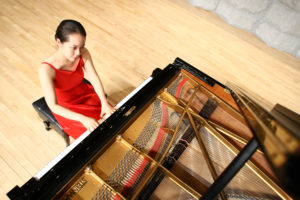 Our next recital will be on Tuesday 19 November at 7.15 pm in the Sunderland Museum and Winter Gardens.  The pianist is Grace Yeo who will be playing:
Robert Schumann:   Arabeske  Op.18
Clara Schumann:      Deuxième Scherzo in C   Op.14
.                                     Romance in A flat  Op.11 no.3
Robert Schumann:   Sonata no.2 in G minor  Op.22
INTERVAL
David Pennycuick:   Preludes  Op.19 nos. 20,21,24,6
Beethoven:    Sonata no.7 in D  Op.10 no.3
Scriabin:         Sonata no.4 in F sharp  Op.30
Please note that this is an amended programme, although all the composers, and many of the pieces, remain as in the brochure.
Non-members welcome. Tickets at the door are £12.50.  (Free for accompanied children 16 & under; £6.00 for full time students and those on unemployment benefit).