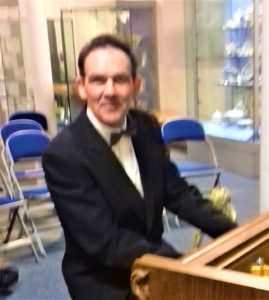 The 76th season of the Society finished with a recital by the world famous pianist Valentin Schiedermair who entertained the audience with a popular programme of well loved music. The recital began with two Preludes and Fugues from Book Two of the Well Tempered Clavier by J. S. Bach which were played with clarity and great authority. These were followed by a delightful performance of the Mozart Sonata in B flat, K570 and the first half of the recital ended with the Impromptu in F sharp Op. 36 and the Barcarolle in F sharp Op. 60 by Chopin. After the interval we heard the most splendid performance of Pictures at an Exhibition by Mussorgsky which was a complete contrast to the first half of the recital.
Valentin Schiedermair certainly impressed the audience with his sheer stamina and brilliant technique, yet everything was played with musicality and detail. The audience demanded more, and the Mussorgsky was followed by a beautifully played Chopin Nocturne in F sharp op.15 no. 2.
From a musical family, Valentin has studied in many parts of the world with famous teachers and spends a very busy life both performing and teaching. Since his first radio recording aged 16 he has developed a large repertoire and is to be admired for his ability to involve the audience in his performance.
Lily Scott.