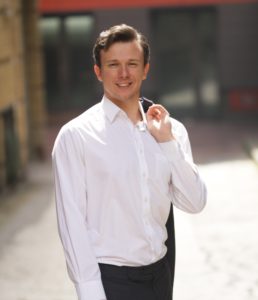 The Society's 75th season continued with a recital by the brilliant young Russian pianist Alexander Karpeyev who played a programme of music from his native land.
The recital began with 9 pieces from Visions Fugitives by Prokofiev which made a good opening for an evening of brilliance and power as well as intense musical insight into some rarely heard music. This was followed by Sonata-Ballade, op. 27 by Medtner, again seldom heard but was well received by the audience who were impressed by Alexander Karpeyev's virtuosity. This is the 8th of Medtner's sonatas, composed between 1912 and 1914 and was a good follow up to the Sonata Romantica which we heard last month. After the interval we had some rarely heard miniatures by Grechaninov. These were charming short pieces by a relatively unknown composer born in 1864 and was known for his liturgical works for the Russian Orthodox Church. We then had some Rachmaninov; Fragments, Etude-Tableaux and part of All-Night Vigil op.37, all beautifully played. The evening finished with Three Movements from Petrouchka by Stravinsky which made a very good end to an exciting recital. These were played with such power and ability that the audience demanded an encore which was a March by Medtner.
Alexander Karpeyev began playing the piano at the age of 7 and in 2000 he entered the Moscow Tchaikovsky Conservatory. In 2005 he won a scholarship to the Guildhall School of Music and Drama where he studied with Joan Havill. He has won many competitions and performed in all major cities as well as being Artistic Director of the Medtner Festival in London. The second Medtner Festival will be celebrated 26-27 November,2017.   WWW.MEDTNERFEST.CO.UK
Altogether, a wonderful evening and a pianist to watch.
Lily Scott