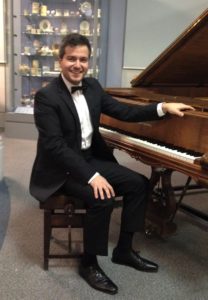 The 76th season continued with a recital by the brilliant young British/Romanian pianist Florian Mitrea who was sponsored by Making Music's Philip and Dorothy Green Award for Young Concert Artists Scheme. The recital, which was held in the Pottery Room at Sunderland Museum, was well supported by a good audience who heard a recital of well loved piano music and were reluctant to leave without an encore of Chopin's Étude in C minor, op.25 no.12.
The recital began with a beautiful performance of Mozart's Fantasia in C minor K475 which was followed by Beethoven's Sonata in C major, op.53 [Waldstein]. Again, a powerful and exciting performance making a good end to the first half of the recital. The second half of the recital was all Chopin, beginning with a very exuberant performance of the Scherzo no.1 in B minor, op. 20 which was followed by two beautifully played Nocturnes,op.27 no.1 in C sharp minor and op.55 no.1 in F minor. Florian ended his recital with the Andante Spianato and Grande Polonaise which was played with great authority and we all had the impression that he had enjoyed the evening as much as we had.
Florian Mitrea has a very busy schedule, performing all over the world, and members of the Society are most grateful to Making Music for giving us the chance to hear such a talented young pianist who we hope will visit us again in the future.
Lily Scott